By Sven Martens
The biggest challenge for salespeople has always seemed to be acquisition, but doesn't digital lead generation offer an absolute opportunity to overcome this challenge? So how does digital lead acquisition work and how can you incorporate it into your process?
What are B2B leads?
B2B leads are nothing else than (new) business contacts that are qualified with different degrees during your sales process and ideally become a new customer.  
In digital marketing, leads are generated through various forms of advertising. The term "lead" comes from English and means to lead, in this case to guide a contact along the funnel on the way to a new customer.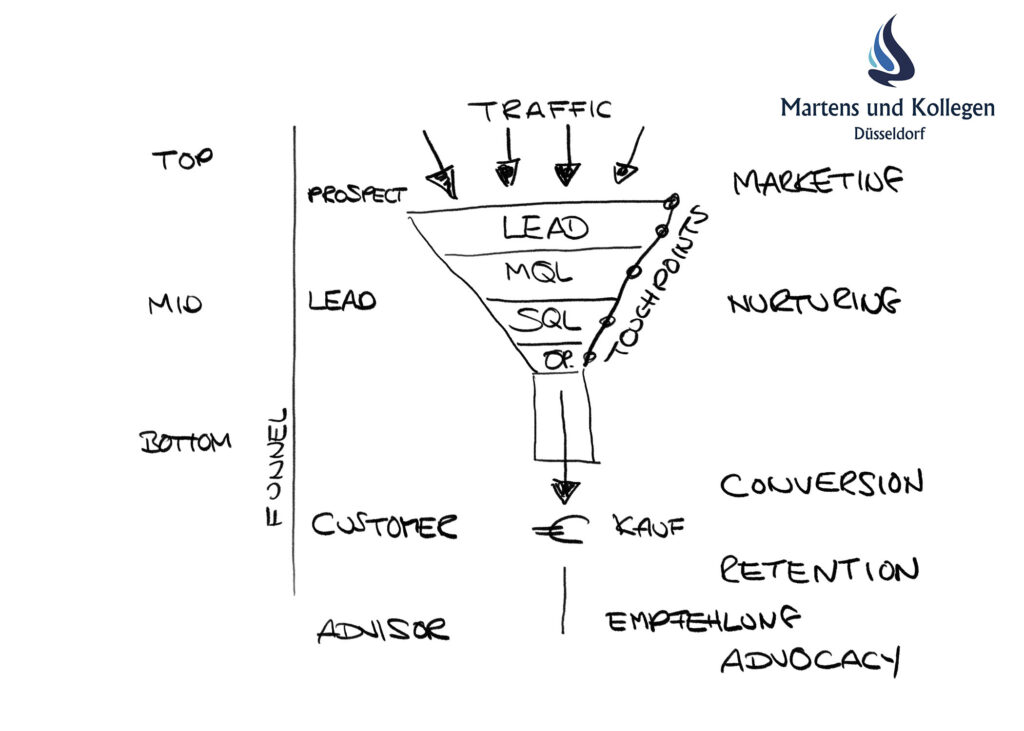 How do you qualify a lead?
After you get a prospect(digital marketer) to visit your website and they give you your information, you qualify the prospect as a lead.
As a rule, the e-mail address of a contact is recorded as the main feature. It is always important to make an initial assessment of a lead's potential. Does he only inform himself about the topic (Knows) or does he also want to perform an action (Do's). You can see how the lead behaves on your website to help you assess this.
In the next step you can qualify your lead. Common classifications are here:
You should define the division into several lead qualifications for your company yourself. Parameters here are, for example, automation levels and team distribution. However, there are characteristics that speak for the following classification. Please keep in mind that a lead is still completely "unqualified" after qualification.
Marketing Qualified Lead (MQL)
A Marketing Qualified Lead (MQL) corresponds to an extended extent to your target group, or the so-called Buyer Persona, the person you see as a potential customer. The interest of the MQL is shown by reactions to your nurturing offers, e.g. downloading whitepapers, offer sheets, etc. The lead has a need or is interested in your products and services. The lead has a need or interest and is engaged in your lead nurturing process. From our point of view, several touchpoints are required to further qualify the customer.
From the moment the MQL shows concrete interest in buying, it becomes: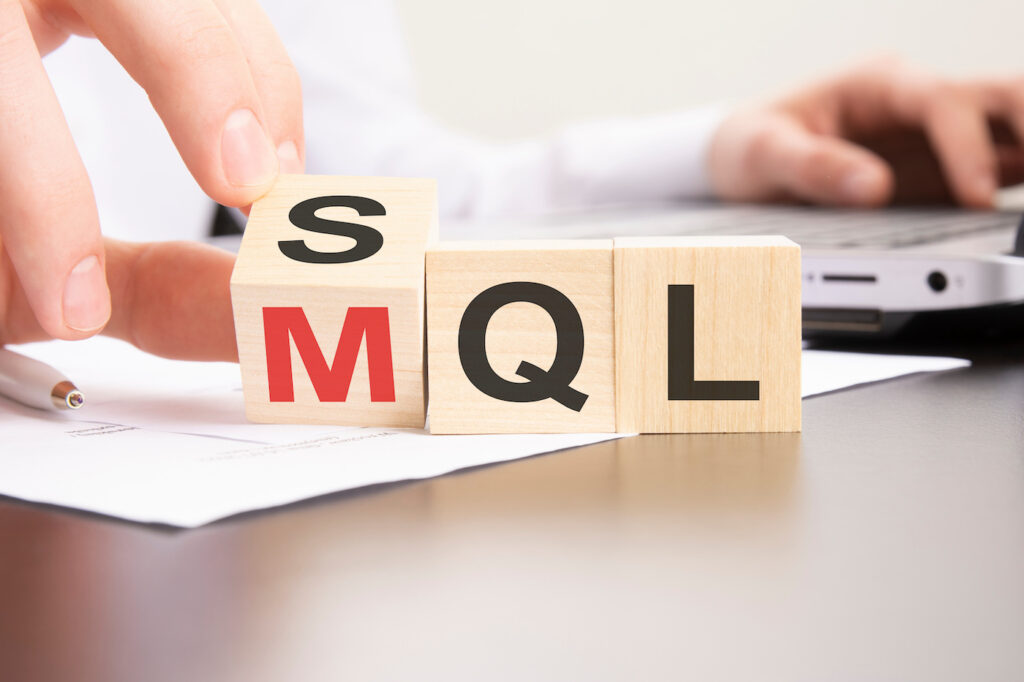 Sales Qualified Lead (SQL)
The characteristic of the SQL is the concrete buying interest. The moment you establish contact with a sales representative. At this point we recommend video meetings and product tests to establish a direct relationship with the SQL. The personal touch plays a crucial role especially with products or services that require explanation, a complex offer structure or high prices. The degree between automation and personalization is often an impulse for the purchase.
Opportunity
Opportunity becomes the SQL when he wants to buy exactly your product and you agree on a concrete deal. After the purchase, it is important toretain the customer and if he is convinced of your product/service, he will recommend your brand/product as a loyal brand ambassador.
Lead generation does who?
Sales means passion for the person who does it, but also a certain amount of effort, which also entails costs . The more I invest in the personalized explanation of my products and services, the higher the case-related costs.
Generating qualified leads is therefore a highly effective way to minimize wastage(digital marketing) and keep costs in check.
Under this set-up, you should decide for yourself whether your sales department is responsible for generating leads, or whether this can be automated in marketing . Pre-sales tasks such as collecting and enriching leads can be mapped in marketing. Of course, this doesn't mean that every operational employee can't collect data in CRM systems, including sales employees in social media, business networks, trade shows, symposiums, etc. However, the qualification / enrichment of these contacts should take place in marketing.
How does B2B lead generation work?
Now that we know what leads are and their importance, let's look at how generation works.
First of all, content marketing, social media marketing and other forms of advertising try to attract as much attention as possible to your product or service. Search engine optimization organically delivers better findability. At the end of the day, traffic is generated on your website or social media channels.
You now try to offer actions to your prospects from this traffic in the form of valuable content. The simplest form is to have the prospect fill out contact information in lead forms in return for added value ( whitepapers, downloads, add-ons, trial versions).
Lead forms
With lead forms, it is important to request as much data from the prospect as necessary, but as little as possible. They are not yet a contact and you can certainly add data that is not primarily relevant in the course of the subsequent process.
The fundamental question for you might be, what is a prospect willing to give for the content offered. A recipe for a food buyer may be worth less than a 14-day trial account from a product configurator provider.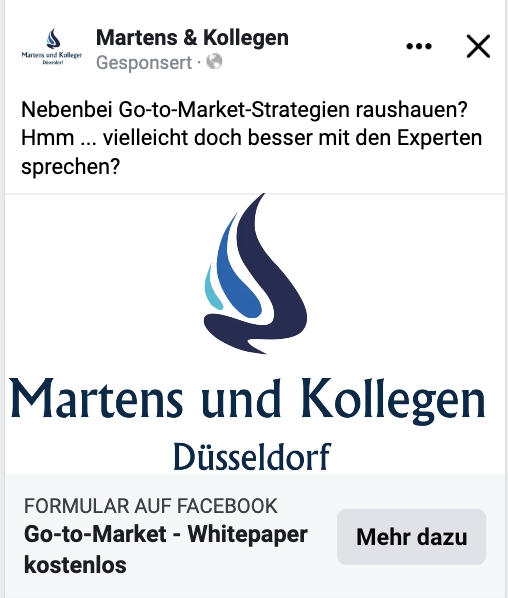 In the course of primary lead generation, you should weigh up for yourself exactly what prospects are willing to reveal about themselves at the point and what you can learn from them in the subsequent nurturing process. As a basic formula, perhaps the following can be said: the less data is entered or the higher the automation in lead forms, the more conversion can be achieved.
Use of lead generation
Without the use of efficient automation tools, a multi-platform presence and multi-channel sales are almost impossible to map(Sales & Distribution).
The basis for this is a CRM tool (e.g..: (Hubspot, Pidedrive, Zoho, Echobot) that displays all data on customers and prospects, ideally also at the traffic generation stage. Many of the systems offer lead generation forms and connections to advertising channels.
Where do I create the most traffic for my lead generation?
Content is king and little will change in this respect. The impulse for the start of a search is usually the still weak, but existing interest in a topic. Without latent interest, it often takes a lot of advertising to get people interested in a topic, or even valuable content that offers the searcher help, a solution, benefits or added value.
Creating relevant information for your target audience or prospects is the most effective and relevant source for lead generation. Your website is the foundation for this information.
Landing pages
On your website, you ideally present topics for which you want to generate leads on separate pages, so-called landing pages. In order for these landing pages to be found, it is important to permanently optimize them in terms of usability and engagement on the one hand and search engine optimization on the other. There are also various tools for this purpose. Basically, the easier you make the content accessible and the more relevant the topic, the better your organic findability in search engines and thus the likelihood that interested parties will reach you.
What is used in content marketing: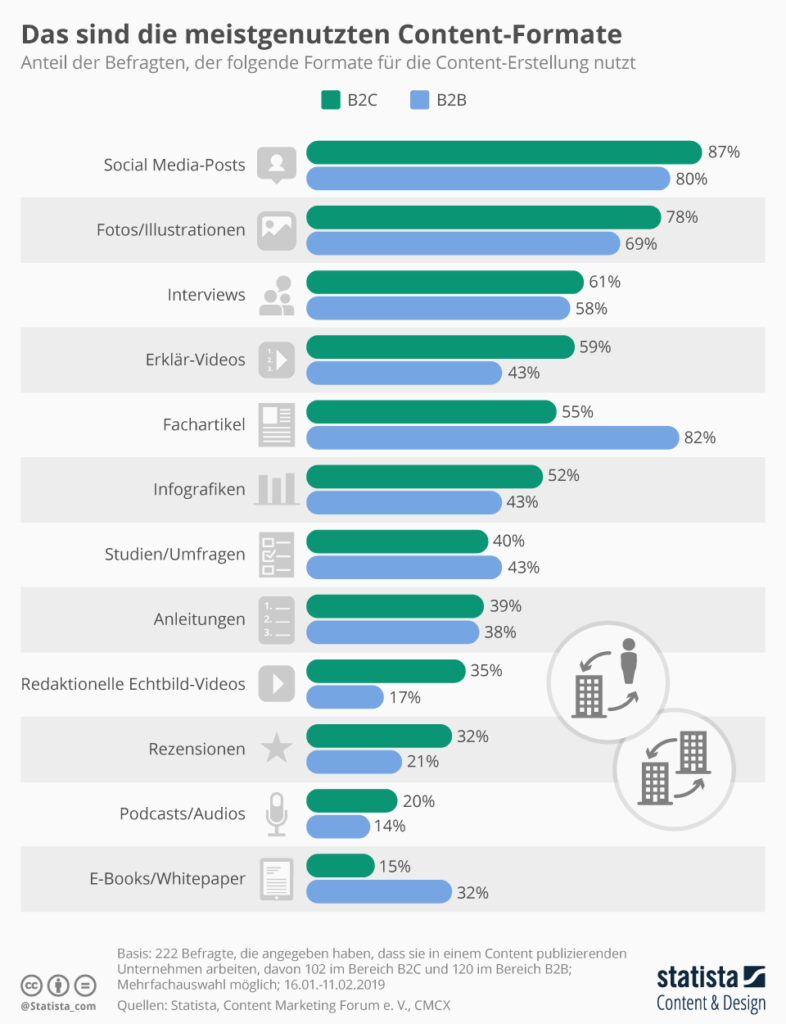 Whitepaper
In order to convince a contact to take an action, several touchpoints are required to confirm the prospect on his customer journey (AIDA rule). After generating interest in something, the prospect often wants to deepen his interest in a topic before generating demand. Impulse-driven, emotional buying decisions are almost impossible in B2B sales. Instead, prospects gather detailed information before even considering a product or service provider. 
Whitepapers offer an interesting way to generate B2B leads. By demonstrating your own expertise, you can offer professional support and assist the prospect in their search.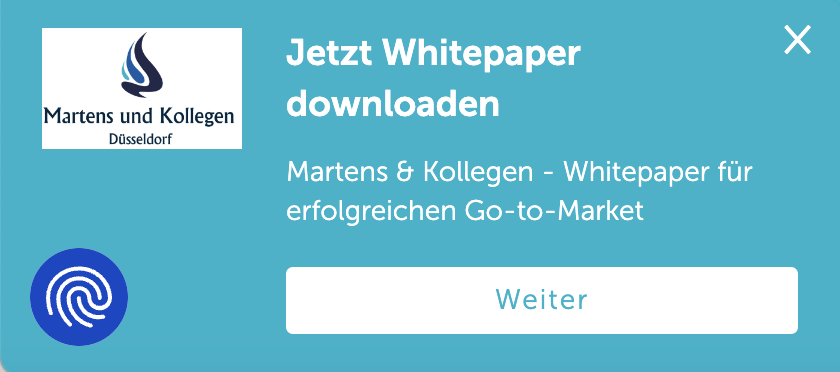 Screencast - Videos
In B2B acquisition, very high response rates can be generated with so-called screencast videos. Specifically, the screen of the potential customer's website is filmed (with or without your face in the picture) and you describe suggestions for optimizations for the prospect. From this concrete leads can be generated. Known providers are Loom or Adobe Captivate or Screencastify.
Webinars
Since B2B often involves products or services that require a lot of consultation, it is advisable to offer prospects an opportunity to deepen their interest or a confirmation of your action.
Webinars are suitable for this purpose, in which you can further present your products or services.
Since these webinars can be accessed at any time, the willingness to give you the contact information is more likely than when communicating directly with the prospect.
Online Demo / Live Webinar
Nevertheless, live demos with the prospect also offer advantages. For example, the specific needs of the prospect can be determined and thus later stages of lead qualification can be skipped.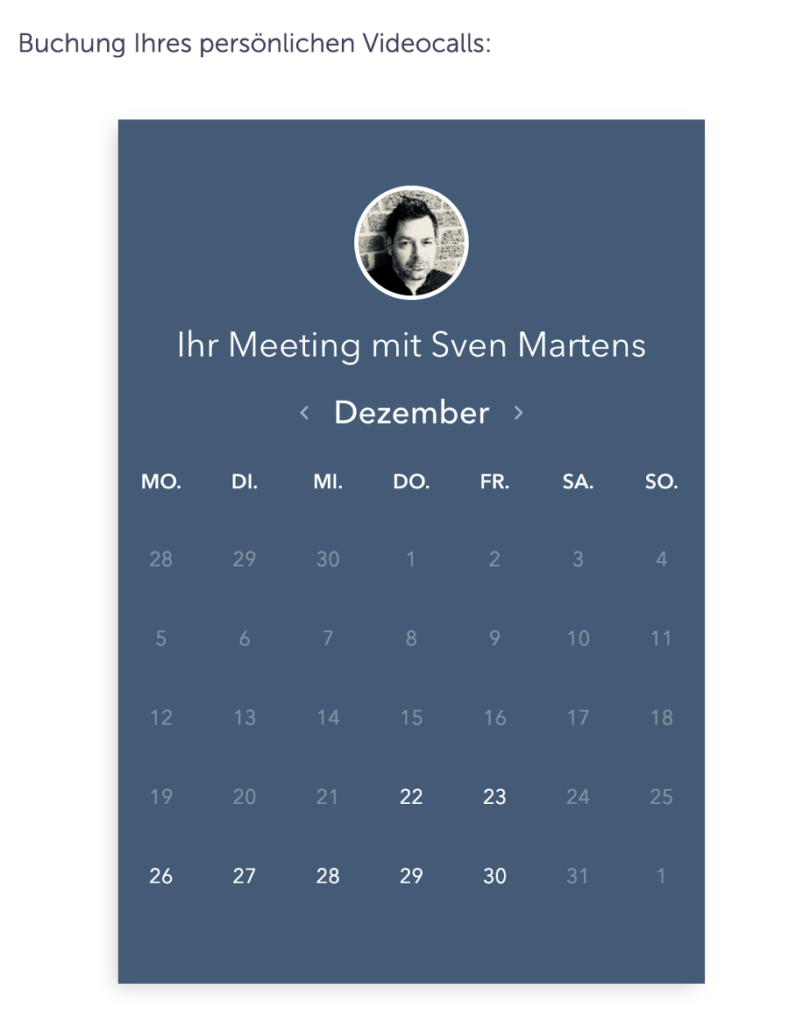 Blog
In a blog, you can position yourself as an expert on your topic. It's not so much about teasing your product, but rather confirming your expertise to prospective customers.
A blog is a good basis for organic search in search engines. The more valuable content you offer, the higher your ranking in the SERPs of the search engines. Pay attention to the optimization of your keywords to reach your target audience as often as possible and with relevant topics.
Remarketing
Not all visitors to your website will fill out your lead form, but they have already shown interest in you and your offer. By remarketing on your pages through the use of tags and pixels on them, you can and should target visitors to your website again. A potential customer needs between 5 and 7 contacts until he decides. Use this as a decision-making aid for your prospects through remarketing.
Social selling
Today's social selling, along with sales technologies, is an integral part of a company's virtual selling. LinkedIn and Xing (for the D-A-CH region) are the standard for professional networking.
The basis of these networks is certainly networking with former and current colleagues and business partners with whom you want to keep in touch. Of course, you can also inform yourself about current trends and topics.
Of course, you can also actively use these networks for lead generation by regularly creating content and sharing it with your contacts. Over time, you'll generate relevance for your topics, get reviews and recommendations, and generate leads. Sales tools like the LinkedIn Sales Navigator give you the opportunity to actively address your target group.
With a company page, it is also possible for you to generate leads directly on exciting topics. Lead Gen Forms offers the direct lead generation option or the use of call-to-action buttons with the corresponding linking option. The ideal is the direct data transfer option of the respective contact.
Furthermore, you can increase the interaction with your website by linking to landing pages or your blog to generate more traffic.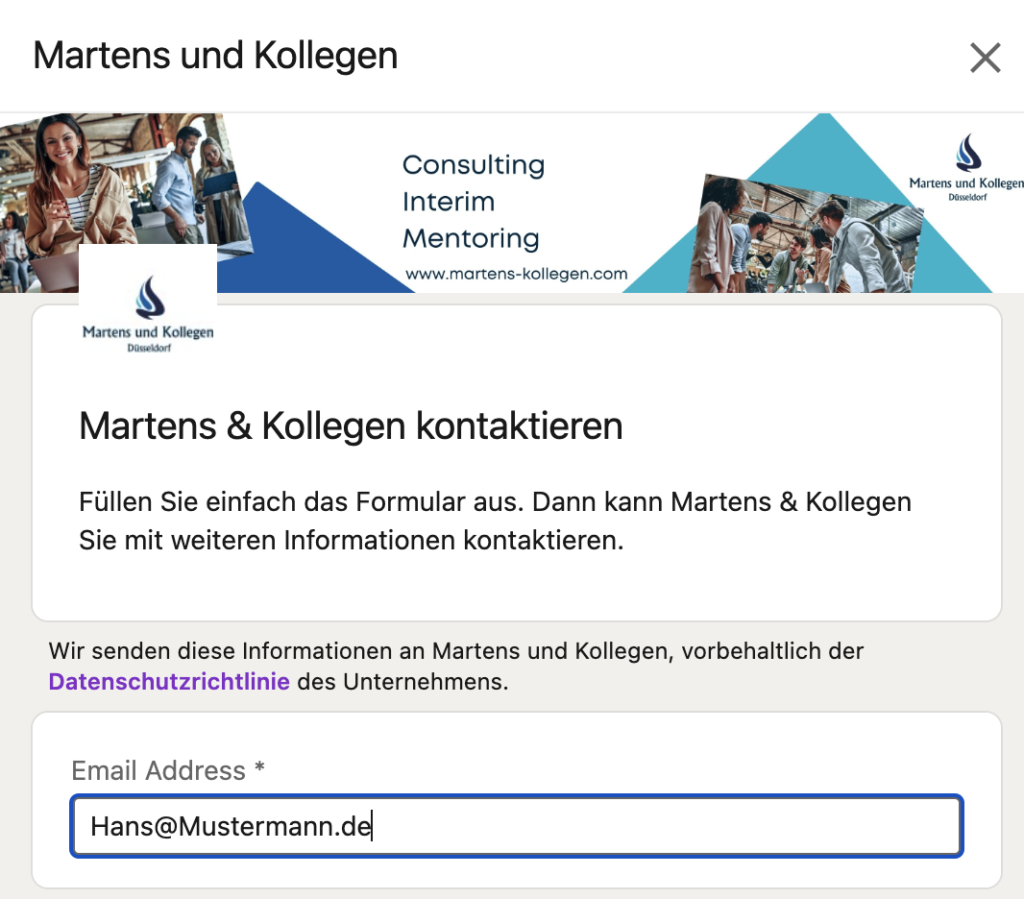 Advertising
Like the other measures, the top-of-the-funnel approach is to first generate as many prospects as possible, which then generate leads.
The consideration of which forms of advertising you choose depends on your target group definition, the competition, your budget etc.
It is important to reach the prospective customer several times on the way to his purchase decision. In addition to native/organic search, such touchpoints can also be reached through advertising.
Search Engine Marketing (SEM)
Prospects search for terms, topics, in search engines. If you place relevant keywords for these search terms in ads, you can direct interested parties specifically to your landing pages. The best-known advertising platform here is certainly Google Ads, but you can also place ads in Bing. 


Community management
Regular contributions in forums or advertorials on industry platforms are also a traffic magnet. The possible backlinks to your website are an additional benefit, as they improve your organic ranking in the SERPs.
Lookalikes:
If you already have a customer base or have defined the characteristics of potential customers, modern heuristic sales tools offer the possibility to find prospects that are similar to your customers, quasi your lookalikes.
On the marketing side, however, you can already rely on lookalikes to your target audience or website visitors in the course of traffic generation and then promote them specifically.
Conclusion:
Sufficient leads are the basis for success in the B2B sector. With a suitable Marketing strategy you will be able to generate promising and sufficient B2B leads.
The basis for the go-to-market analysis is the target group analysis and target group definition, the possible customer journey of this target group and the touchpoints at which you can reach them. After generating attention and traffic, it is up to you to consolidate the leads at touchpoints in the funnel and to achieve conversion. Good luck!